WE GIVE YOU THE BEST IT TRAINING COURSES IN CAMEROON
If you are looking for a computer training school in Buea, Cameroon that will give you practical hands-on training and make sure you learn digital skills that you can leverage on, then you are in the right computer training school. Data Girl Technologies provides quality and practical ICT and Computer training that is second to none.
An Impactful Immersive Learning Experience At Data Girl Technologies
Build a Career in IT
Do you want to change jobs and take up an IT career? Are you a graduate who wants to build a career in IT? Do you have some skills in IT but you want to build a career path that can give you your dream job? Are you not sure of the IT training and skills you need to prepare for the career you want?

DataGirl's IT career path training is created to help you choose a career in IT, get the required IT training and skills which prepare you for a well-paying job. Our IT career path specialist is always ready to guide you
We love what we do and who we do it for
Our Practical one on one personalized training has set us as one of the best Computer training institutes in Cameroon
Crafting effective digital marketing and UX design
As the best, IT training center in Cameroon our IT training courses are practical hands-on training where you learn IT skills that are in high demand from the beginning to advanced even if you have not touched a computer before

The world of information technology IT is growing rapidly, and in the years to come in this digital age, we are going to see even more of a demand for IT skills and IT-related jobs. We all have started seeing the dramatic impact information technology is having on the business world. Everything now revolves around Information technology. Many people fear losing their jobs to machines and technology, but the exciting component of this transition is that it will create new jobs in the process.

What this means is that those who enroll in IT training courses and learn practical IT skills will have a better chance of being employed. Our IT training center in Cameroon is positioned with the state of the art IT training equipment.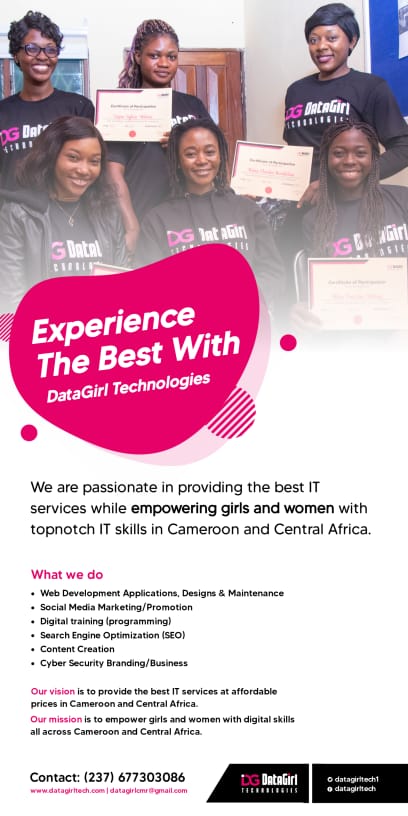 See what our students say about us